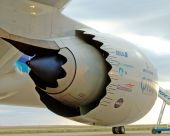 · Lab. Professor : Kui soon Kim
· Lab. TEL : 051-510-3290
· Location : Engineering #8 - 8103, 8111
Heat transfer and turbomachinery lab. is conducting a research concerning performance analysis and design of compressor and turbine which were parts of gas turbine engine. In order to design turbomachinery and improve performance analysis, lab. is focused on both to develop 3-dimensional flow analysis program and conduct experimental research. New Liquid Crystal Display analysis method was established for measurement and analysis heat transfer and it is applying to designing and manufacturing heat transfer models.
Recent Projects
Experimental and Numerical Analysis for Constructing Optical Database of Partial Admission Turbine and Nozzle
Development of Flow Analysis Program for Turbine Design
Simulation of Full-Engine System of Turbo-Shaft Engine